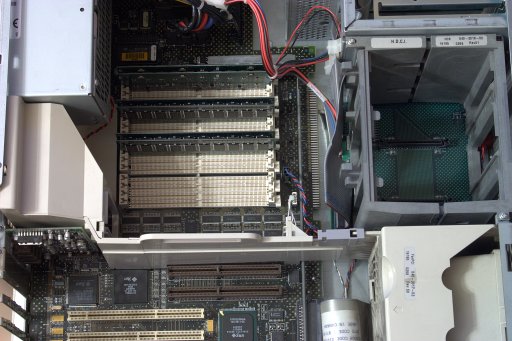 OBP 3.27

Sun Ultra 30 UPA/PCI (UltraSPARC-II 296MHz), No Keyboard
OpenBoot 3.27, 384 MB memory installed, Serial #9430564.
Ethernet address 8:0:20:8f:e6:24, Host ID: 808fe624.

Linux
dmesg

PROMLIB: Sun IEEE Boot Prom 3.9.5 1997/04/11 10:03
Linux version 2.4.24 (karbo@azrael) (gcc version egcs-2.92.11 19980921 (gcc2 ss-980609 experimental)) #2 Sun Jan 11 20:50:26 Local time zone must be set--see zic manu
ARCH: SUN4U
Ethernet address: 08:00:20:8f:e6:24
On node 0 totalpages: 48673
zone(0): 163745 pages.
zone(1): 0 pages.
zone(2): 0 pages.
Found CPU 0 (node=f0072278,mid=0)
Found 1 CPU prom device tree node(s).
Kernel command line: root=/dev/nfs ip=dhcp
Calibrating delay loop... 591.46 BogoMIPS
Memory: 373960k available (1816k kernel code, 344k data, 136k init) [fffff80000000000,000000007ff42000]
Dentry cache hash table entries: 65536 (order: 7, 1048576 bytes)
Inode cache hash table entries: 32768 (order: 6, 524288 bytes)
Mount cache hash table entries: 512 (order: 0, 8192 bytes)
Buffer cache hash table entries: 16384 (order: 4, 131072 bytes)
Page-cache hash table entries: 65536 (order: 6, 524288 bytes)
POSIX conformance testing by UNIFIX
PCI: Probing for controllers.
PCI: Found PSYCHO, control regs at 000001fe00000000
PSYCHO: Shared PCI config space at 000001fe01000000
PCI0(PBMB): Bus running at 33MHz
PCI0(PBMA): Bus running at 66MHz
ebus0: [auxio] [power] [SUNW,pll] [sc] [se] [su] [su] [ecpp] [fdthree] [eeprom] [flashprom] [SUNW,CS4231]
PCIO serial driver version 1.54
su(mouse) at 0x1fff13062f8 (irq = 4,7ea) is a 16550A
Sun Mouse-Systems mouse driver version 1.00
su(kbd) at 0x1fff13083f8 (irq = 9,7e9) is a 16550A
keyboard: not present
SAB82532 serial driver version 1.65
ttyS00 at 0x1fff1400000 (irq = 12,7eb) is a SAB82532 V3.2
ttyS01 at 0x1fff1400040 (irq = 12,7eb) is a SAB82532 V3.2
Console: ttyS0 (SAB82532)
power: Control reg at 000001fff1724000 ... not using powerd.
Linux NET4.0 for Linux 2.4
Based upon Swansea University Computer Society NET3.039
Initializing RT netlink socket
Starting kswapd
pty: 256 Unix98 ptys configured
rtc_init: no PC rtc found
Floppy drive(s): fd0 is 1.44M
FDC 0 is a National Semiconductor PC87306
sunhme.c:v2.01 26/Mar/2002 David S. Miller (davem@redhat.com)
eth0: HAPPY MEAL (PCI/CheerIO) 10/100BaseT Ethernet 08:00:20:8f:e6:24 
SCSI subsystem driver Revision: 1.00
sym.0.3.0: setting PCI_COMMAND_PARITY...
sym.0.3.0: setting PCI_COMMAND_INVALIDATE.
sym0: <875> rev 0x3 on pci bus 0 device 3 function 0 irq 4,7e0
sym0: No NVRAM, ID 7, Fast-20, SE, parity checking
sym0: SCSI BUS has been reset.
scsi0 : sym-2.1.17a
  Vendor: TOSHIBA   Model: XM5701TASUN12XCD  Rev: 0997
  Type:   CD-ROM                             ANSI SCSI revision: 02
Attached scsi CD-ROM sr0 at scsi0, channel 0, id 6, lun 0
sym0:6: FAST-10 SCSI 10.0 MB/s ST (100.0 ns, offset 8)
sr0: scsi-1 drive
Uniform CD-ROM driver Revision: 3.12
audio0: cs4231a(eb2) at 1fff1200000 irq 13,7e3
md: raid5 personality registered as nr 4
raid5: measuring checksumming speed
   VIS       :   117.600 MB/sec
raid5: using function: VIS (117.600 MB/sec)
md: md driver 0.90.0 MAX_MD_DEVS=256, MD_SB_DISKS=27
md: Autodetecting RAID arrays.
md: autorun ...
md: ... autorun DONE.
NET4: Linux TCP/IP 1.0 for NET4.0
IP Protocols: ICMP, UDP, TCP
IP: routing cache hash table of 8192 buckets, 64Kbytes
TCP: Hash tables configured (established 65536 bind 32768)
IP-Config: Guessing netmask 255.255.255.0
IP-Config: Complete:
      device=eth0, addr=192.168.1.33, mask=255.255.255.0, gw=255.255.255.255,
     host=192.168.1.33, domain=, nis-domain=(none),
     bootserver=192.168.1.4, rootserver=192.168.1.4, rootpath=
NET4: Unix domain sockets 1.0/SMP for Linux NET4.0.
Looking up port of RPC 100003/2 on 192.168.1.4
Looking up port of RPC 100005/1 on 192.168.1.4
VFS: Mounted root (nfs filesystem).
eth0: Link is up using internal transceiver at 100Mb/s, Full Duplex.

cpuinfo

cpu		: TI UltraSparc II  (BlackBird)
fpu		: UltraSparc II integrated FPU
promlib		: Version 3 Revision 9
prom		: 3.9.5
type		: sun4u
ncpus probed	: 1
ncpus active	: 1
Cpu0Bogo	: 591.46
Cpu0ClkTck	: 0000000011a4b680
MMU Type	: Spitfire

lspci

00:00.0 Host bridge: Sun Microsystems Computer Corp. Psycho PCI Bus Module
	Control: I/O- Mem+ BusMaster+ SpecCycle- MemWINV- VGASnoop- ParErr+ Stepping- SERR+ FastB2B-
	Status: Cap- 66Mhz- UDF- FastB2B+ ParErr- DEVSEL=medium >TAbort- <TAbort- <MAbort+ >SERR- <PERR-
	Latency: 64

00:01.0 Bridge: Sun Microsystems Computer Corp. EBUS (rev 01)
	Control: I/O- Mem+ BusMaster+ SpecCycle- MemWINV- VGASnoop- ParErr+ Stepping- SERR+ FastB2B-
	Status: Cap- 66Mhz- UDF- FastB2B+ ParErr- DEVSEL=medium >TAbort- <TAbort- <MAbort- >SERR- <PERR-
	Latency: 80 (2500ns min, 6250ns max), cache line size 10
	Region 0: Memory at 000001fff0000000 (32-bit, non-prefetchable) [size=16M]
	Region 1: Memory at 000001fff1000000 (32-bit, non-prefetchable) [size=8M]
	Expansion ROM at 0000000081000000 [size=16M]

00:01.1 Ethernet controller: Sun Microsystems Computer Corp. Happy Meal (rev 01)
	Control: I/O- Mem+ BusMaster+ SpecCycle- MemWINV- VGASnoop- ParErr+ Stepping- SERR+ FastB2B-
	Status: Cap- 66Mhz- UDF- FastB2B+ ParErr- DEVSEL=medium >TAbort- <TAbort- <MAbort- >SERR- <PERR-
	Latency: 80 (2500ns min, 1250ns max), cache line size 10
	Interrupt: pin ? routed to IRQ 00664ae0
	Region 0: Memory at 000001ff80008000 (32-bit, non-prefetchable) [size=32K]
	Expansion ROM at 0000000082000000 [size=16M]

00:03.0 SCSI storage controller: LSI Logic / Symbios Logic (formerly NCR) 53c875 (rev 03)
	Control: I/O+ Mem+ BusMaster+ SpecCycle- MemWINV+ VGASnoop- ParErr+ Stepping- SERR- FastB2B-
	Status: Cap- 66Mhz- UDF- FastB2B- ParErr- DEVSEL=medium >TAbort- <TAbort- <MAbort- >SERR- <PERR-
	Latency: 136 (4250ns min, 16000ns max), cache line size 10
	Interrupt: pin A routed to IRQ 00664ac0
	Region 0: I/O ports at 0000000002010400 [size=256]
	Region 1: Memory at 000001ff80010000 (32-bit, non-prefetchable) [size=256]
	Region 2: Memory at 000001ff80011000 (32-bit, non-prefetchable) [size=4K]

01:00.0 Host bridge: Sun Microsystems Computer Corp. Psycho PCI Bus Module
	Control: I/O- Mem+ BusMaster+ SpecCycle- MemWINV- VGASnoop- ParErr+ Stepping- SERR+ FastB2B-
	Status: Cap- 66Mhz+ UDF- FastB2B+ ParErr- DEVSEL=medium >TAbort- <TAbort- <MAbort+ >SERR- <PERR-
	Latency: 64

00:00.0 Class 0600: 108e:8000
00: 8e 10 00 80 46 01 80 22 00 00 00 06 00 40 00 00
10: 00 00 00 00 00 00 00 00 00 00 00 00 00 00 00 00
20: 00 00 00 00 00 00 00 00 00 00 00 00 00 00 00 00
30: 00 00 00 00 00 00 00 00 00 00 00 00 00 00 00 00

00:01.0 Class 0680: 108e:1000 (rev 01)
00: 8e 10 00 10 46 01 80 02 01 00 80 06 10 50 80 00
10: 00 00 00 70 00 00 00 71 00 00 00 00 00 00 00 00
20: 00 00 00 00 00 00 00 00 00 00 00 00 00 00 00 00
30: 00 00 00 01 00 00 00 00 00 00 00 00 00 00 0a 19

00:01.1 Class 0200: 108e:1001 (rev 01)
00: 8e 10 01 10 46 01 80 02 01 00 00 02 10 50 80 00
10: 00 80 00 00 00 00 00 00 00 00 00 00 00 00 00 00
20: 00 00 00 00 00 00 00 00 00 00 00 00 00 00 00 00
30: 00 00 00 02 00 00 00 00 00 00 00 00 20 00 0a 05

00:03.0 Class 0100: 1000:000f (rev 03)
00: 00 10 0f 00 57 00 00 02 03 00 00 01 10 88 00 00
10: 01 04 00 00 00 00 01 00 00 10 01 00 00 00 00 00
20: 00 00 00 00 00 00 00 00 00 00 00 00 00 00 00 00
30: 00 00 00 00 00 00 00 00 00 00 00 00 00 01 11 40

01:00.0 Class 0600: 108e:8000
00: 8e 10 00 80 46 01 a0 22 00 00 00 06 00 40 00 00
10: 00 00 00 00 00 00 00 00 00 00 00 00 00 00 00 00
20: 00 00 00 00 00 00 00 00 00 00 00 00 00 00 00 00
30: 00 00 00 00 00 00 00 00 00 00 00 00 00 00 00 00